No matter when you work on IEP preparation throughout the school year, it is ALWAYS a stressful time. There are ALWAYS 1,000 other things to do when you have an IEP coming due, and finding time to sit down and focus is difficult.
If this sounds like you, try something new this year, and do some IEP preparation in the Summer. For EACH STUDENT on your caseload do these tasks NOW, so you can have them checked off on your list when IEPs start coming due during the school year.
Summer IEP Preparation Tasks:
Create a new IEP and share it with related service providers.
Update Cover Sheet
Organize the Profile Section of the IEP with sections you include. Copy/paste any info from the previous IEP Profile that continues onto the next IEP. (I typically copy/paste the entire profile, highlight it yellow, then delete information I know will change. After I change/update information/data, I take off the yellow highlighting so I know it's current information.)
Create and Number your goals (No need to write the goals yet, just label them)
Complete the Special Instructional Factors Section – add your estimated goal minutes, accommodations, and modifications that will continue to the next IEP.
Complete the LRE, Transportation Section, and Testing Pages
Open a new Invitation
Open a new Attempts Page
Add Due Date Reminders to your calendar/plan book (if you haven't already done so) for data collection, parent contacts, etc.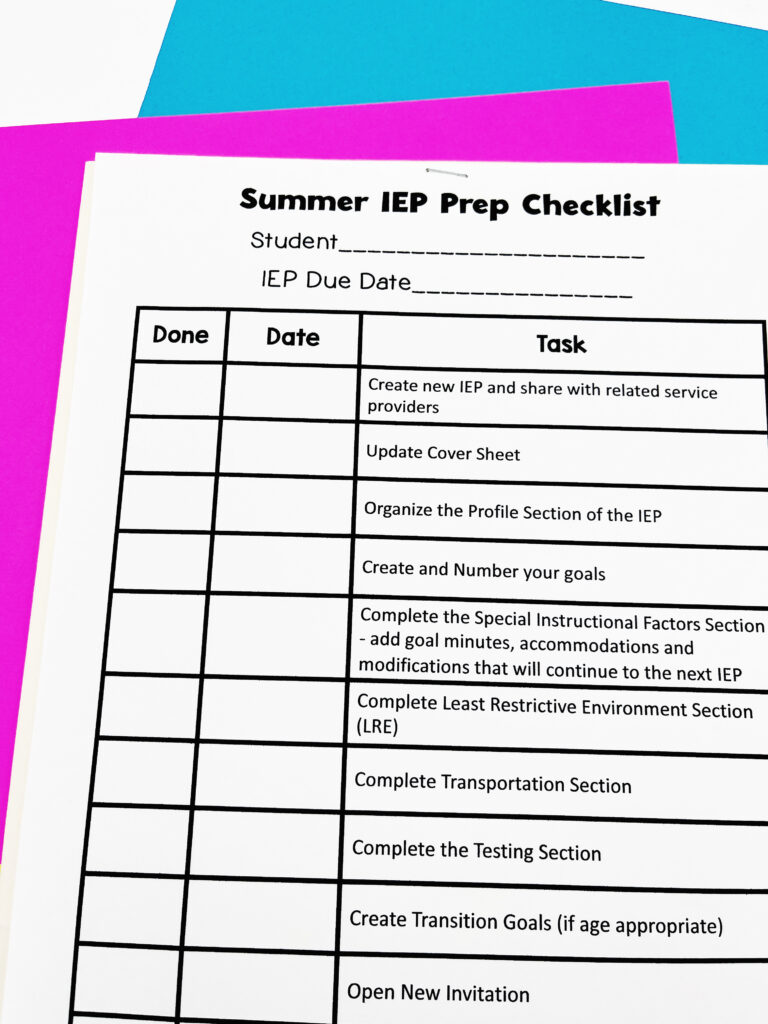 Disclaimer: This checklist is based on IEPs written in the state of Ohio. IEP formats vary from state to state.
I know it sounds like a lot, but these tasks on the IEP do not change a lot from one year to the next. It's a lot of copy/paste that you can do while watching Netflix in the Summer and save yourself time during the school year. It is a lot easier to go into the IEP and make changes during the school year as you collect data than it is to start from scratch in the middle of the school year.
Break up the preparation and spread it out…
If you have a large caseload, you can break up the IEP preparation into smaller chunks. Do 1 student a day, or 2 students a week so it does not seem like a lot at once. I promise you will thank yourself come October when you have multiple IEPs to write, a Halloween party to plan, and conferences in the same week!
CLICK the links below to download my FREE Summer IEP Preparation Checklist to keep you organized.
Summer IEP Preparation Checklist for Google Slides (Digital Version for Google Sheets) – Create a new tab at the bottom for each student on your caseload by clicking DUPLICATE. You can add/change tasks to your copy as you go.
Here's a quick video on how to use my spreadsheet.
Summer IEP Preparation Checklist (Print Version) – If you are using a print version, staple the checklist to the front of a folder for each student and use it to collect data and assessments for IEPs when the year starts.