Anyone else struggle to keep student's attention during read aloud time? I have been trying a new strategy with my students, and so far it seems to be working really well! Everyone participates, AND now they are getting excited to play our new read aloud board game. All you need is a book, some sticky notes, and a place to stick them!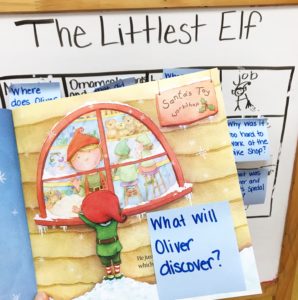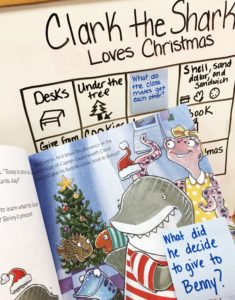 (This activity can be done with any picture book, anytime during the school year. I just happen to be working on this idea during the holidays – hence the Christmas themed book.)
Preparation:
First, I do a quick read of the book ahead of time and write out "wh" questions on sticky notes. Then, I put the sticky notes on the page they match in the book.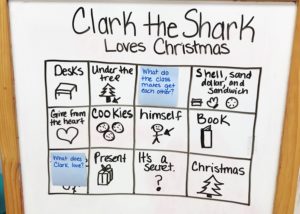 Then, I make my game board on my dry erase easel with all of the answers. I even draw up my own pictures to go with my answers for my non-readers. (I am definitely not a fantastic artist, but my students seem to get the idea.) Preparation DONE!
Activity:
I always introduce the book title, and we have a small group discussion about our predictions. Then, as I read through the book, I go around the carpet and choose students to answer the questions on the sticky notes. We pause on each page that has sticky note to play. I read the question on the sticky note, then have the student come up to place the sticky note on the answer. Almost like Jeopardy, in reverse 🙂 Sometimes, if I feel I am loosing a student's attention, I remind them their turn is coming up so they make sure to listen. That's it! My students love it, and I love that they are listening!
Keep in mind, that I teach in an elementary special education resource room, and this is how this activity works for me. There are definitely ways to modify this activity to suit the needs of your own classroom. Changing the style of questions, the layout of your game board, or how you choose students to answer the questions are all possible ways to make this fit your student's needs.
I am also able to target some students specific IEP goals in reading comprehension during this activity which is an added bonus! I typically keep a clipboard checklist next to me while I read with my student's names so I can put down a quick + or – when they answer a question.
Give it a try and let me know how it works for you!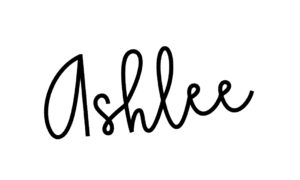 Interested in some NO-PREP ready-to-go book companion activities? CLICK HERE