Holy turkey! This November went by so fast! I definitely was not able to fit everything in that I intended to, but… here is what we accomplished this month:
For starters, we took down our Frankenstein Window Decorations and put up some adorable Coffee Filter Turkeys!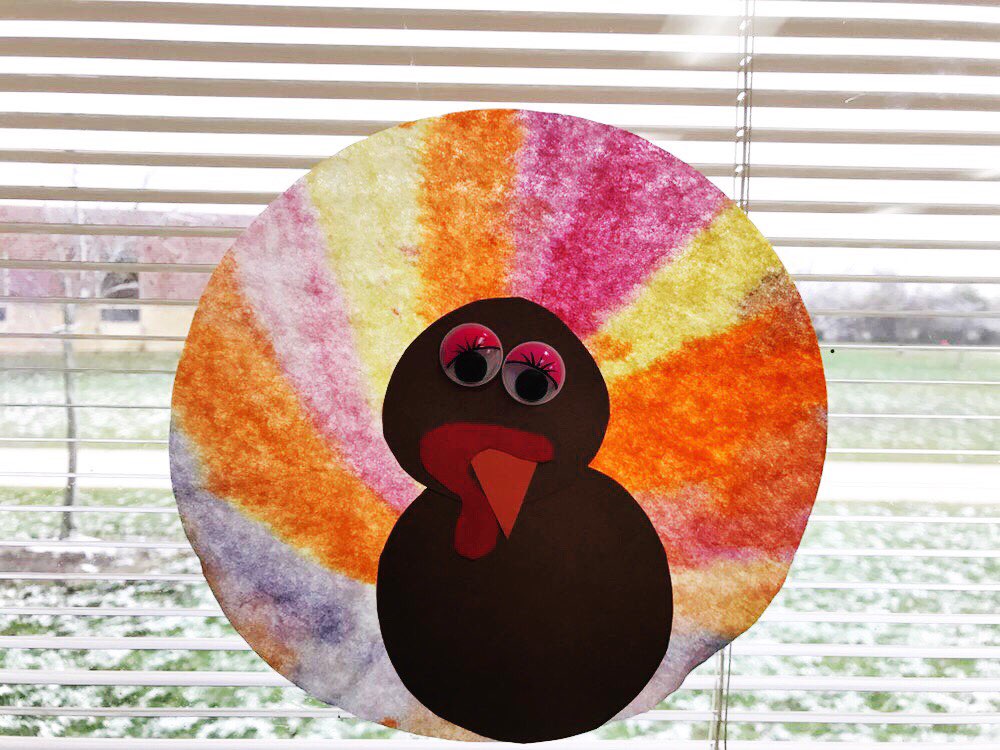 Materials:
coffee filters, brown/red/orange construction paper, googly eyes, watercolors,
Directions:
Paint the coffee filters with watercolors.
Cut out a turkey shaped body from brown construction paper, a small beak from orange paper, and a wattle from red paper.
Glue the turkey body on the coffee filter when dry.
Glue on the googly eyes, beak, and wattle.
Done! Hang them in the window!
Next, we had to get our door decorated and start the countdown until Thanksgiving break! Of course, I forgot to take a picture of him, but the students really enjoyed "plucking" his feathers off as we counted down the days to Thanksgiving break!
November is also the perfect month to have Gratitude be our Character Trait of the Month (Which is something new I started this year – CLICK HERE for my Character Resources) The very first lesson we did was have a discussion about the things we are thankful for, and then we watched Berenstain Bears: Count Your Blessings on YouTube. We followed up the Berenstain Bears episode with creating our own Thankful Trees.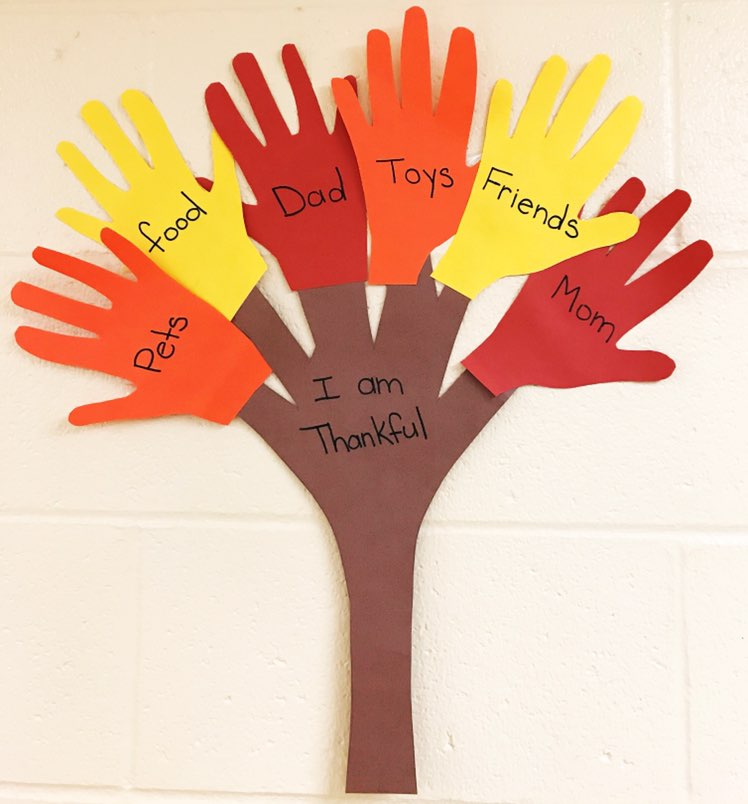 Materials:
construction paper, markers, and KID HANDS!
Directions:
Cut out a tree from brown construction paper.
Trace the students hands on colorful paper (we did red, yellow, orange for Fall).
Have students write one thing they are thankful for on each hand.
Glue the hands on the tree.
**We did not use a tree template, just free-handed our best version of a tree**
For my students who have limited motor skills, I had them tell me what they are thankful for verbally and I wrote it for them on the hands or helped them write hand-over-hand. For my students who are non-verbal, I gave then picture choices and had them choose pictures to cut and paste on their hands.
The next thing we got started on was our Mayflower Stories. To learn about the history of the Mayflower, we read several books about the Mayflower Voyage and, of course, we watched Charlie Brown's Mayflower Voyage, which I rented from my local library. Then I had the students brainstorm and develop their own story about the Mayflower Voyage. I like to incorporate the writing process wherever I can, so I created a resource specifically for this activity, which you can CLICK HERE to find. The main objective of this activity was to create a story about the Mayflower to include a character, setting, problem, and solution. After everything we learned about life on the Mayflower, it wasn't difficult for my students to come up with a problem for their stories! It was obviously quite the journey! We crafted up a cute Mayflower Poster on construction paper and glued on our stories.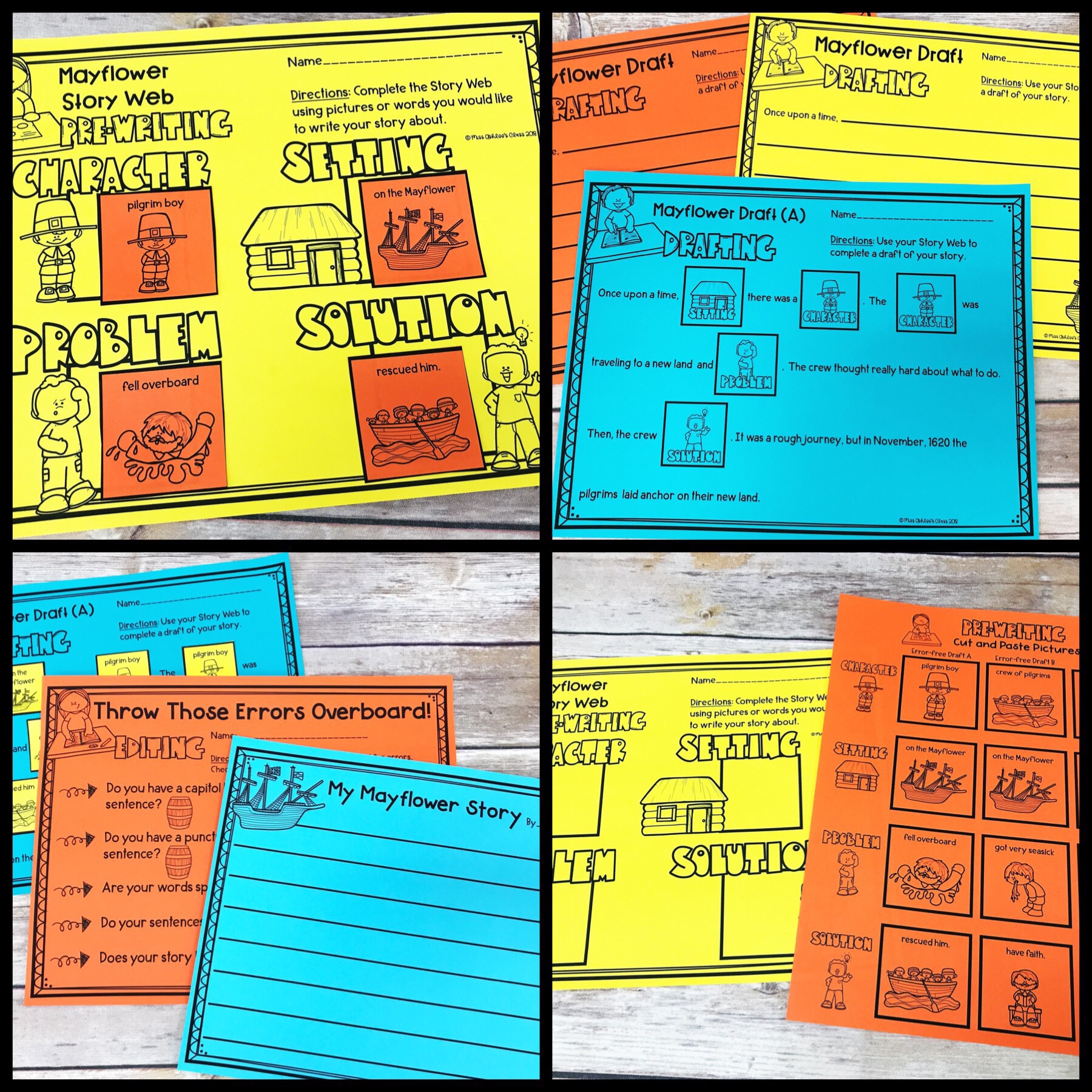 CLICK HERE to check out my Mayflower Story Writing Activity
I always like to do some kind of Thanksgiving Feast with my students. Each year we mix it up and do it a little bit differently. This year we kept it simple. Each student chose their favorite food to share and brought it in. I sent a note home to parents about 2 weeks prior to our Thanksgiving Feast and asked for students to pick a food they would like to share. I provided turkey, rolls, and pie. It worked out great! We also kept our decorations simple. I grabbed a big piece of white roll paper, taped it across a few tables, and gave the students a bucket of markers. My students enjoyed drawing turkeys, wrote about the things they are thankful for, and labeled their seats. Then we sat down for our feast and we took turns sharing what we wrote. Like I said before, Thanksgiving snuck up on me and we didn't seem to have as much time to squeeze in an abundance of turkey activities, but we were still able to have some fun.
Of course, I also incorporated as many turkey themed reading, writing, and math activities as I could. We wrote some Silly Thanksgiving Stories, played Where is the Turkey? during calendar time, and read my favorite Thanksgiving children's book The Very Stuffed Turkey by Katharine Kenah.
CLICK HERE for some Thanksgiving Resources I used in my classroom.
And now… on to the gingerbread house making! Happy Holidays!