We all know Valentine's Day Party Day can be a crazy day in the classroom! The students are excited, the energy is high, and chaos is about to begin. I enjoy the excitement and energy of the day, but I do crave a bit more structured chaos (if there is such a thing). This year I tried something new and it was a huge hit with my students. They had fun, and it was much more structured than my parties in the past.
Valentine's Day Task Stations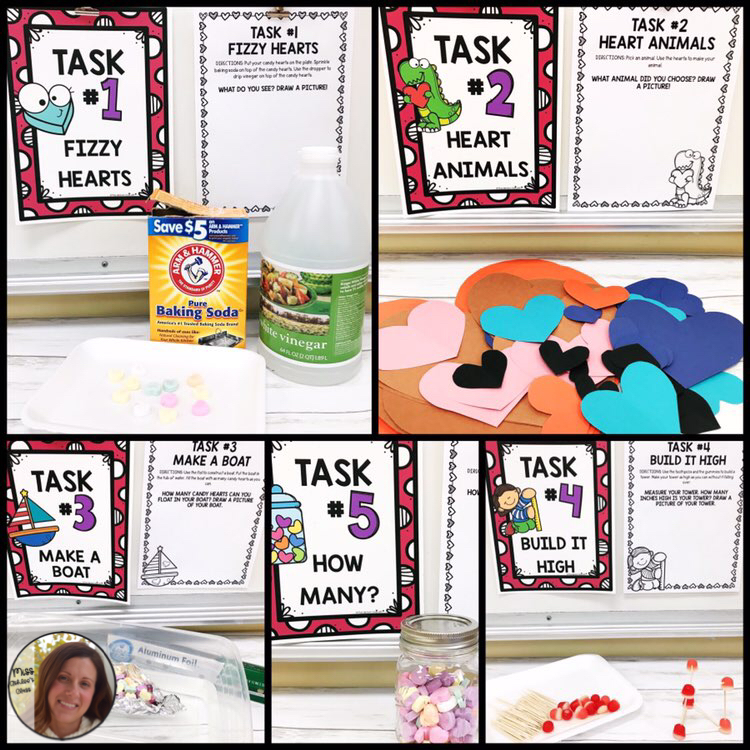 These fun, structured Valentine's Day Task Stations are perfect for Valentine's Day activities in your elementary and special education classrooms. Students get to rotate through 5 stations of crafts and STEM activities while completing a Valentine's Day Task Booklet. This activity was created for a special education classroom of students with multiple abilities and the assistance of a few parent volunteers or paraprofessionals to guide students through the stations. More independent classrooms may be able to do the stations without assistance.
Here is a list of everything you need:
Candy Hearts
Baking Soda
Vinegar
Droppers *Eye droppers or the medicine droppers that come with Children's Tylenol work great*
Paper Plates or Styrofoam Trays
Construction Paper (All colors)
Scissors, Glue, 5 cups of Crayons
Aluminum Foil
Tub of water
Gummy Candies *I used Valentine Gum Drops, but any gummy candy will work, as long as you can stick a toothpick in it*
Toothpicks
Mason Jar
Various Craft items (googly eyes, pompoms, etc.)
Ruler
Timer
Parent Volunteers, Student Helpers, or Paraprofessionals (depending on the abilities of you students)
Teacher Preparation
IF YOU HAVE TIME PRIOR TO THE PARTY, send a note home asking parents to donate some of the materials to your classroom for the party. This will help with cost, and I always find parents are more than happy to help! Set up 5 tables or areas in the classroom. One for each task. At each station place the following materials needed for each task. Make copies of the Valentine's Day Task Booklets – 1 per student. The booklet contains the directions for each station, and room for students to draw pictures and record observations.
Before starting the stations, explain the tasks at each station and your expectations. Put students in small groups or with a partner. In my classroom, I set a timer for 10-15 minutes and had students rotate stations each time the timer went off. If students finish the task before the timer goes off, they are to color in their observation book and stay at the station. (This definitely helps limit the chaos in the room!) Assign each group to a station, and a helper (parent volunteer or paraprofessional) to the stations or groups you feel necessary.
Set your timer and HAVE FUN!
Station #1 Fizzy Hearts
What you need:
Task 1 Station Sign
Paper plates – 1 per student
Candy Hearts
Baking Soda
Vinegar
Droppers
Cup of Crayons
Directions:
Put your candy hearts on the plate. Sprinkle baking soda on top of the candy hearts. Use the dropper to drip vinegar on top of the candy hearts. Watch them fizz!
Station #2 Heart Animals
What you need:
Construction Paper (Variety of Colors)
Scissors
Glue
Googly eyes, pompoms, or other various craft items
AT THIS STATION, I PRE-CUT A VARIETY OF HEARTS IN DIFFERENT SIZES AND COLORS TO SAVE TIME. THIS HELPED MANY OF MY STUDENTS WITH LIMITED FINE MOTOR SKILLS.
Directions:
Allow students to pick an animal and create it out of paper hearts and other craft supplies you have available. You can pre-make some animals for students to copy or give them the freedom to get creative.
Station #3 Make a Boat
What you need:
Aluminum foil
Candy hearts (A lot of them, some may get wet!)
Fill a plastic tub with water
Directions:
Have students use the foil to construct a boat. Once students are comfortable with their boat, they can test it out in the tub of water. Have them fill the boat with as many candy hearts as they can without it sinking!
Station #4 Build it High
What you need:
Gummy candies
Toothpicks
Ruler
Directions:
Have students use the toothpicks and the gummy candies to build a tower. Challenge them to see how high they can build the tower without it falling over before the timer goes off.
Station #5 How Many?
What you need:
Fill a mason jar of candy hearts and put the lid on tight!
Make sure you count them ahead of time.
Directions:
Have students guess how many candy hearts are in the jar!
That's a wrap! Good luck! Of course you can create your own signs and task booklets, but if you need a time savor CLICK HERE! I already have one made for you! Wishing you a fantastic (and less chaotic) Valentine's Day Party!