The writing process can be so much fun when kids get to use creative writing during the holidays! In this Reindeer Story Writing activity, students of all abilities can get creative and participate in the writing process. CLICK HERE to check out this resource in my TPT Shop! Let's get started!
Step 1: Pre-Writing
Every great story has a main character, a setting, a problem, and a solution. The focus of this writing activity is to write a story about a reindeer. It can be Rudolph, Prancer, or a reindeer character the students create on their own. Students will brainstorm about their reindeer character, where the story will take place, and what kind of problem the reindeer will encounter. Students can use the premade story web to organize their ideas. More independent thinkers can develop their own ideas and fill in the story web. Emerging writers can choose a story from the error-free writing page, then cut and paste the pictures into the story web.
When I am introducing a writing activity to my students, I like to share similar types of stories to open a discussion of the concept. For this activity, I gathered up a few of my favorite Christmas books and read them to my class. While we read through each book, we discussed the characters, setting, problem, and solution in each book. CLICK HERE to download a free story element template to use with any Christmas themed story! AND… also grab this free Story Element Bookmark from my Free Resource Library!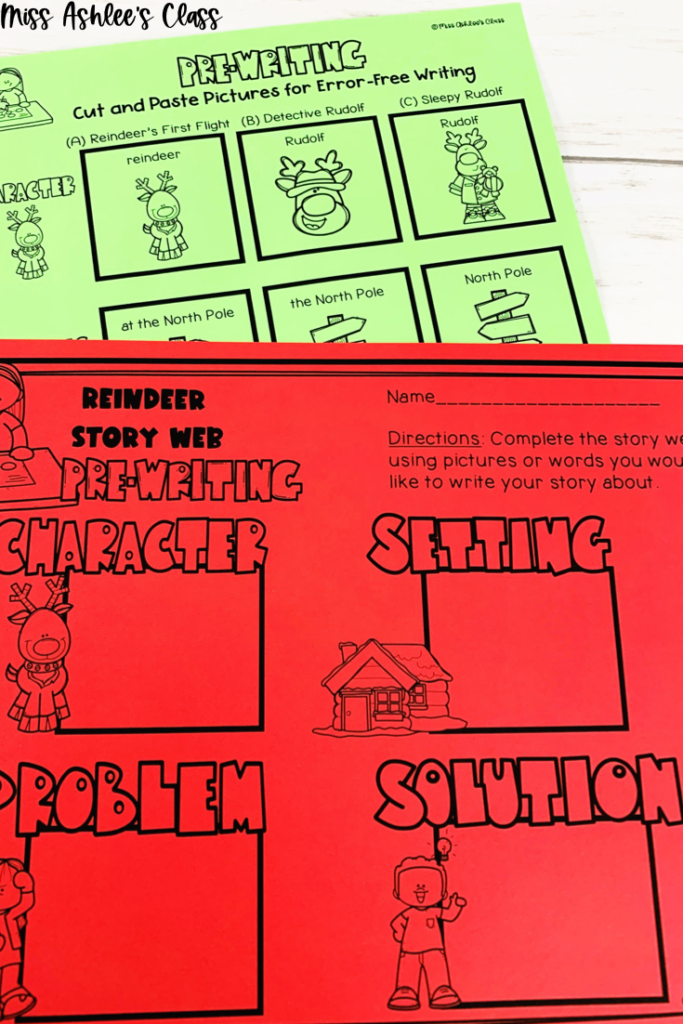 Step 2: Draft a Reindeer Story
Once students have completed the story web, it's time to start writing! Choose one of the four differentiated versions of the drafting page that best fits each student's ability. Independent writers can develop their own sentences and focus on sentence formation and grammar. Emerging writers can focus on sequencing the steps of a story and simple sentence formation. Pre-writers can focus on identifying story elements using error-free picture choices to create a story using one of the 3 premade templates.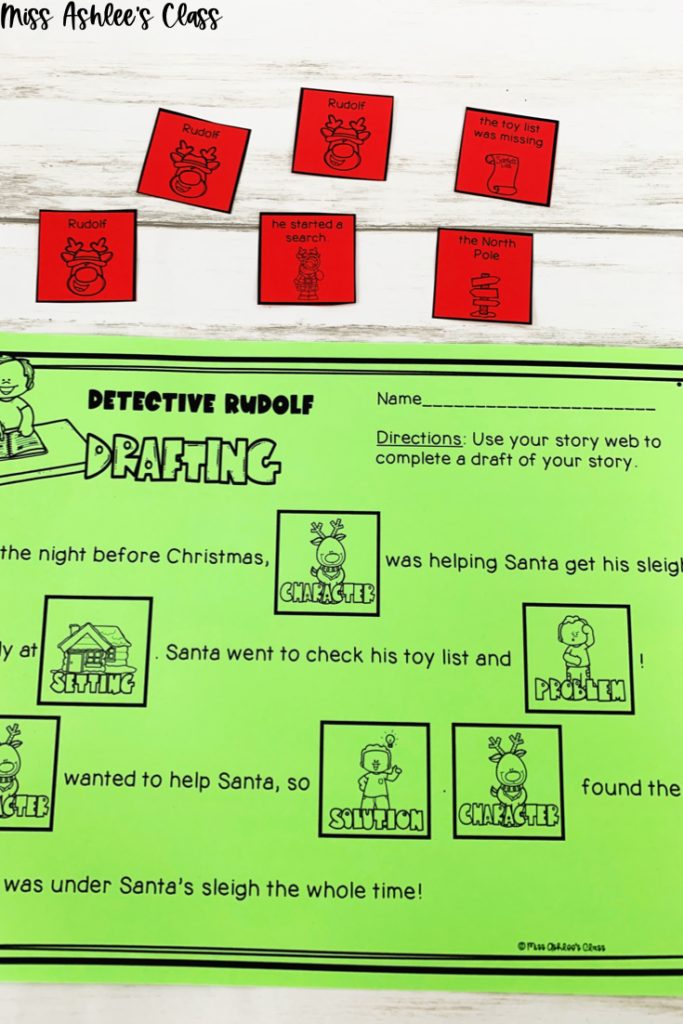 Step 3: Editing
Editing is an important part of the writing process. Students can use the editing checklist to check their story (or a friend's story) for errors. Some things to focus on for independent writers are:
Capital letter at the beginning of every sentence.
Punctuation mark at the end of every sentence.
Correct letter and word spacing.
Spelling.
Do the sentences make sense?
Does the story flow and include a beginning, middle, and end?
Pre-writers and emerging writers using the error-free version of the stories can practice reading their story and identifying story elements (character, setting, problem, and solution) in their story.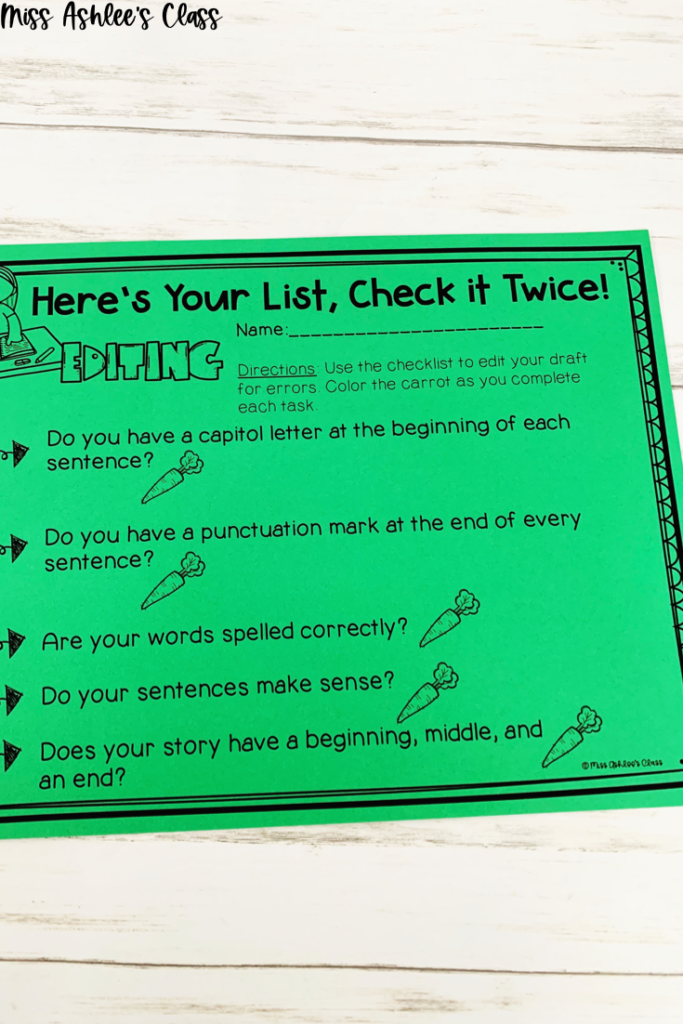 Step 4: Publish a Reindeer Story
On to the final step! Make sure you decide how you want students to publish the story. Are you going to hang them on a bulletin board or have students make a small book? This will drive which final draft you use for students. Independent writers can write their final drafts on one of the final drafting pages. Some ideas for emerging writers would be to have them copy their drafting page, write the story for them in highlighter and have them trace the story, or use the error-free final draft pages to copy the story and finalize the writing process. AND of course there always needs to be a picture to illustrate the story, so don't forget those!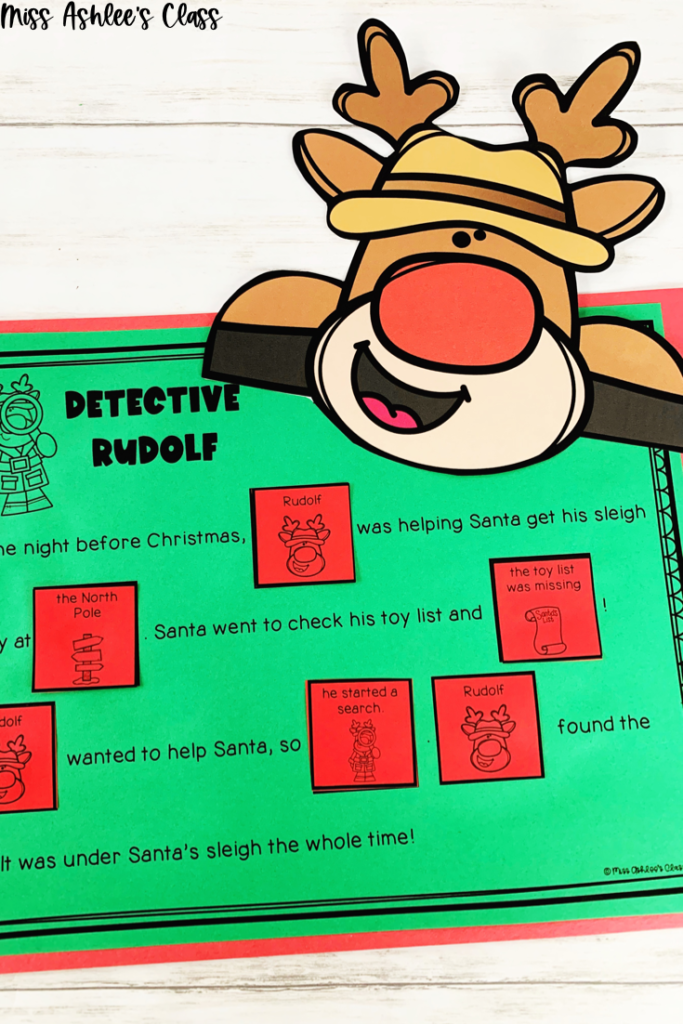 All done! Now every student has successfully created a fun reindeer story and participated in the writing process along the way! CLICK HERE to check out this resource in my TPT Shop!
For more differentiated writing activities, check out my TPT Shop!
Happy writing and thanks for reading!